BLACK HEARTS IN BLACK SUITS
|
BHIBS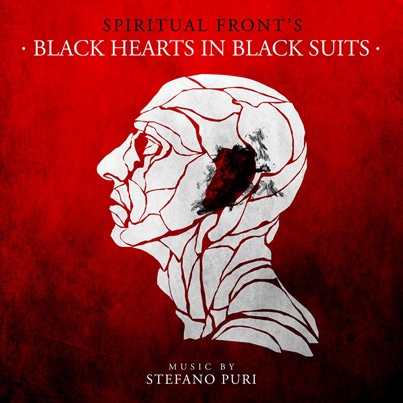 A collaboration born of a long separation. Seven years after the highly acclaimed ARMAGEDDON GIGOLO, Simone Salvatori and Stefano Puri once again find their paths crossing.
BLACK HEARTS IN BLACK SUITS is the result of three years of work,
composed by Stefano Puri specifically for SPIRITUAL FRONT, with Simone Salvatori lending his voice and interpretation (as intense and charismatic as ever) to the composer's music.
The poems of Reiner Werner Fassbinder are given new light as they materialize into musical form as Stefano Puri sits at the piano and joins Simone Salvatori on a voyage of no return.
The SYMPOSIUM ENSEMBLE and the BLACK HEARTS CHOIR round out the endeavor.
The composer's writing – in one moment minimal and introspective, in the next dark and theatrical – follows ancestral pathways along which the singers voice moves between intimacy and majesty, between heavy chords and light harmonies, between airy string passages and obscure choral harmonies.
A concept album more akin to an opera than to the traditional LP, BLACK HEARTS IN BLACK SUITS is a fascinating symphonic journey that takes us through the darkest nihilistic sides of both the composer and the icon of "Suicide Pop".

From Franz Schubert to Nick Cave, Michael Nyman to David Tibet, from Arvo Pärt to Marc Almond… with no way back.
The album will be available in 4 different formats:
Digipack CD,Colored vinyl 299 copies with unreleased songs, Limited Box (299 copies) Contains:
2CD, Postcard, Sticker, Silver Heart Pendant, Black Velvet Bag.

Ultra Limited Deluxe Bag (Only 99 Copies!) Contains:
Limited Colored Vinyl , Limited Box, 2CD, Bonus CD, Postcard, Sticker, Silver Heart Pendant,
Poster, Black Velvet Bag, Certificate Of Authenticity.